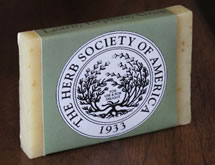 "I absolutely love what you did for my daughter's baby shower! Can't wait for the guests to see them!! You did am amazing job."
Trisha Anderson
"The personalized guest soaps I ordered arrived just in time to welcome friends from Switzerland. I could not be happier with the soaps, and the personalization is exactly what I wanted."
Claudia M. Burlingame, CA
"These lovely favor sized soaps were a hit at my wedding this past weekend! Many thanks to the Herbaria crew for the TLC they put into everything they do."
Katy Sanders, Quincy, IL
"Half size or full size - Herbaria soap is the best!"
Deb Weddle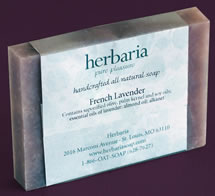 Custom half-bars count towards our free bar offer.
Party and house guests will fondly remember your hospitality as they use these fragrant Herbaria soaps.
It's easy to order.
Choose your soap variety.
Choose your wrapper style.
Enter what you want written on your wrappers.
Select your quantity.
Custom half-bars can usually be ready in a day.
The price is right. If you buy our minimum of 28 custom half-bars, you'll get three free whole bars and free shipping for $98.
Here's how that works: You'll earn a free whole bar for the first 12 half-bars you order. Then for every additional 8 halves, you'll get another whole bar free.
Soap Varieties
If you want a different soap, we can accommodate you but it may take several weeks. Click any photo to enlarge.
French

Lavender


Lavender

Oatmeal


Rosy

Bouquet

Spearmint

Orange
Wrapper Styles
If you wish to add a photo or logo or want something special, you'll need to call us at 866-628-7627. Click any photo to enlarge.
Baby Shower:

Carriage

Baby Shower:

Cherubs

Baby Shower:

Smiling

Baby Shower:

Toys

Bridal Shower:

Dots

Bridal Shower:

Iris

Bridal Shower:

Photo

Bridal Shower:

Raindrops

Guest:

Burst

Guest:

Named Home

Guest:

Orchid

Guest:

Wren

Wedding:

Embossed

Wedding:

Lotus

Wedding:

Photo

Wedding:

Roses