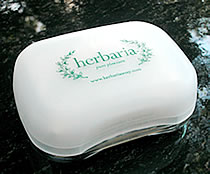 Imagine her thrill: She opens her mailbox and finds a fresh, fragrant bar of Herbaria soap. And it's not the only she receives. Another package arrives every month for an entire year! With each new bar, she remembers your thoughtfulness for sending this delightful gift.
We'll start her year of soaps whenever you like. When you're checking out in our shopping cart, let us know in the comments box when you want her first bar sent. Then, at the beginning of every month, she'll receive a new bar. The soap arrives in a padded envelope via first class mail. Each variety is sure to become her favorite.
The price includes a discount equivalent to 2 free bars and shipping each month to your gift recipient.
Sorry, for domestic delivery only. No international orders.