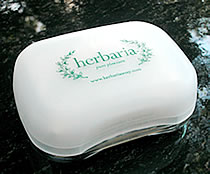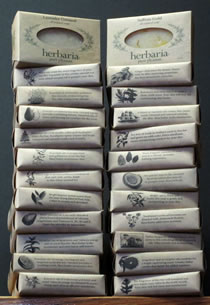 Imagine the delight of finding a fresh, fragrant Herbaria soap in your mailbox every month for a full year. Give that joy with Soap of the Month. We ship a dozen bars that deliver 365 days of bathing pleasure.
Our Twosome Soap of the Month doubles the pleasure. We send two bars each month to the same address. That's 24 bars. What a perfect gift for any pair or couple. Choose whether we send the same (A) or different (B) varieties each month. With (A), for example, both get Spearmint Orange the same month. With (B), one gets Spearmint Orange and the other, Eucalyptus Mint in the same month. With (B), no bars will be repeated.
We'll start the year of soaps whenever you say. As you check out in our shopping cart, use the comments box to tell us when you want the first bar(s) sent. Then, at the beginning of the next eleven months, we'll ship again. The soaps arrive via the United States Postal Service.
Here are the  varieties sent in (A) and to one of the (B) recipients
January- Patchouli Orange; February- Citrus Oatmeal; March- Spearmint Orange; April – Almond Green Tea; May – May Chang; June – Sage Lemongrass; July – Peppermint; August – Evergreen; September – Avocado Lemon; October- French Lavender; November – Vanilla; December – Lavender Oatmeal
Here are the second varieties sent each month in (B)
January- Balsam Fir & Juniper; February- Pink Grapefruit Eucalyptus; March- Italian Bergamot; April - Black Forest Chamomile; May – Almond Spice; June – Lime Coconut Aloe; July – Triple Mint Oatmeal; August – Tea Tree Green Tea; September – Sea Spice; October- Rosemary Mint; November – Ginger Neem; December – Saffron Gold
Sorry, for domestic delivery only. No international orders. Price includes the earned free bars & shipping.