Hand Soaps
Simply washing one's hands with good old-fashioned soap and water is still considered to be an effective way to eliminate about 99.9% of all microbes (fungi, bacteria, and viruses) from the skin, many of which can contribute to the spread of disease.
"Antibacterial products may seem like an easy way to stay healthy, but a close look at them reveals that they present a serious threat to public health and the environment." So says Aviva Glaser, from Beyond Pesticides, the organ of the National Coalition Against the Misuse of Pesticides.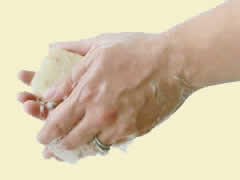 Gardener's Hand Soap is our only bar with "hand" in its name, due to the addition of cornmeal as a scrubbing element, but any of our soaps can be used on your hands and will leave them clean and moisturized.
Many liquid soaps, even those identified as "organic" and "natural" are not soap at all but liquid detergents that are harsh on skin and loaded with unwanted chemicals. Check the list of ingredients closely.
In contrast, living with bar soaps can be a healthful and joyful experience. Pick up a bar, wet your hands, and roll the bar over a few times. The gentle soap will clean without stripping your skin.