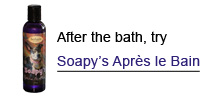 "'Best Dog Soap.' I have been using this handmade bar on my dogs for years. It contains no detergents or perfumes and will not dry out your dog's fur or skin. I wash my dogs at least once a week, and more often if they roll in something disgusting in the park. I've tried many dog shampoos, and this one is the most effective and gentle at the same time. This soap doesn't create too many suds, rinses clean, and doesn't cause any irritation. The bar also lasts a lot longer than any bottle of liquid soap I've tried, and I buy it in bulk!"
From the blog Central Park Doggies with Big Schnozzes
"We appreciate the case. It's so easy to store the soap till we use it again. And we use this bar over and over. It lasts!"
Cynthia Martino, Wilkes Barre, PA
Check the liquid pet shampoo you're using. It's probably made with detergents and synthetic fragrances that can cause dry skin and trigger allergies. This soap won't irritate a dog's sensitive skin.
Soapy's Choice is made with the same gentle, wholesome ingredients as all our people soaps. We add jojoba and neem oils, emollients that ensure a clean, healthy, shiny coat.
The Soapy's Choice kit contains our Soapy's Choice bar along with a Stow 'n Go case. The lightweight clamshell is remarkably durable. It is vented so that bars dry between uses. Shake out any water from the case before putting a wet bar away.
Contains
Soap Categories