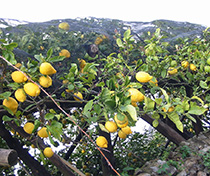 "I save my friends and family any embarrassment after they use the bathroom because I leave an Ambiente out for them to mist with."
"I love your soaps, citronella spray and coconut oil body oil. However, I was not prepared for just how lovely the room fresheners are. They are the most wonderful, true to real scent, room fresheners I have ever experienced. I am in love with them.
My home is my sacred space and my sanctuary. It is important to me that the products I use are organic and herbal and these products are a delight.
Thank you again for the care, integrity and the dedication you pour into the products you create"
Anna Gabriel, Germantown, WI
"It's hard to pick a favorite--all the scents are wonderful."
M. Martin, Ft. Lee, NJ
"I use Ambiente all the time when I change the baby's diapers. It's safe and sweet."
B. Gibson, Indianapolis, IN
"We appreciate yet another healthy alternative from Herbaria."
C. Stuckenschneider, Wildwood, MO
Ambiente room freshener uses essential oils to provide a wholesome, effective mist you won't be afraid to inhale. The natural fragrances will delight you, your family and your guests.
Most commercial air fresheners use synthetic fragrances — chemical concoctions with artificial perfumes. They can overwhelm the nose and saturate a room with throat-choking smells. They'll deceive you with charming names but there's no apple in Apple Orchard any more than there's summer in Summer Breeze.
Each of our four varieties of Ambiente is true to its name: Citrus, Spice, Balsam Fir, and Lavender. We've chosen to include some soothing and sophisticated essential oils, such as may chang, coriander seed and copaiba balsam. They make full bodied aromas, strong enough to revitalize the air in any room. Scent your linens, too.
The labels are so pretty you can leave Ambiente out for your guests to use. The recyclable plastic pump bottle works without propellants, such as propane and butane. The gentle, quiet misting action won't wake baby.
Spray as often as you like — our varieties are all natural and refreshingly pleasant.
Categories
Each bottle of Ambiente Room Freshener™ counts as 1 bar toward our free bar offer.