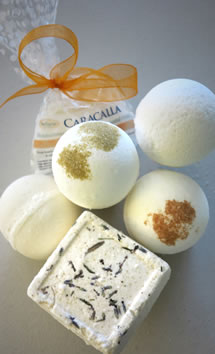 "The Bath Balm is a must. A hot bath with the cooling menthol restores my energy."
Jan Miller, St. Louis, MO
"Covers my skin even in hard to reach places like my back."
Monique B., Fairview Heights, IL
"Herbaria, you rock our world. Everything you make has the most delicious fragrance. The bath bombs are a blast!"
Maria Hernandez, Newark, NJ
"My bath bomb perfumed our entire apartment. I want that smell all the time!"
David Katz, Los Angeles, CA
"I used the Lemon Grove bath bomb and absolutely went crazy for it. The scent was transporting and the oils made my skin feel like satin."
Sarah Warren, Washington, DC
All Caracalla Bath Bombs count towards our free bar offer!
Bombs away! Drop a Caracalla in your bath water. Watch it fizz and bubble as it dissolves. Smell the magnificent fragrance releasing. Step into your private spa.
Lie back and relax. Breathe deeply. Your bath becomes soft and silky from powdered clays or finely ground oatmeal and Epsom salt. Enjoy the feeling of well-being as your stress floats away.
Caracalla releases moisturizing organic high oleic sunflower oil to cover your entire body. The oil readily absorbs into your skin through your pores, which are open from the warm water. Your skin will feel velvety.
We did not invent bath bombs (or soap for that matter), but as with all Herbaria products, we use only natural colorings and essential oils for scent and aromatherapy. You'll want to try them all. Any Caracalla makes a superb gift for men or women.
A note of warning: oils make the bathtub slippery, so be careful.
Bath Balm — when you have a cold, menthol, eucalyptus and pine are a soothing remedy
Lavender Fields — soothing with oatmeal and lavender essential oil
Lemon Grove — bright with lemon and may chang essential oils
Pink Grapefruit & Eucalyptus — doubly uplifting
Peppermint & Rosemary — kissing cousins combine for ultimate refreshment
Rose Garden — floral and zesty from rose geranium and bergamot
Tangerine Pomander — warm and spicy with tangerine and clove