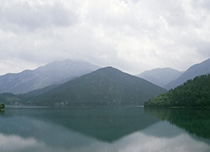 "Most of the week I take a quick shower. Once a week I treat myself to a bath with your salts and I am revitalized."
Carol Robinson, Chicago, IL
"I've tried many other bath salts but I love that your fragrance is all natural. It soothes my soul!"
J. J. Henley, Little Rock, AR
"I never used to take baths but my friend gave me a jar of Lago di Garda and now I can't wait to sit in the tub."
Marty Chapman, Milwaukee, WI
Ahhhh. The scent will get you first. Four intoxicating essential oils infuse your bath and bathroom with natural, restorative aromatherapy. Breathe deep. Eucalyptus and mint open your sinuses. Lavender and rosemary relax and restore you.
Tub water takes on new softness and comfort with the addition of just a half cup of Lago di Garda. The combination of salts—sea salt, dendritic salt, and Epsom salt--leaves you and your skin blissfully pampered.
We've named this fragrant blend of soothing salts after the deepest lake in Europe. Lago di Garda mineral bath salts will take your bathing experience to new depths of pleasure and relaxation.
Contains
Categories
Each jar of Lago di Garda All-Natural Mineral Bath Salts counts as 1 bar toward our free bar offer.