"I'm a school nurse. I don't have permission to give medicine to kids complaining of headaches so I tried Goodbye Headache. If it didn't work, I know I would have seen them again later."
Beth Durban, St. Louis, MO
"This stuff really works! Tension headaches are an almost daily event for me and I live with them because I don't like eating Advil every day. I love the little roller ball - - it makes it so easy to apply. I think I like this even more than the soap (and that is very high praise indeed)."
Julie Ridge, Webster Groves, MO
"I keep a bottle in my purse. I use it as soon as I feel a headache coming on and then usually it never develops."
Alice Koch, Dallas, TX
Tension headaches are very common, affecting up to 78% of the general population. To alleviate these headaches with a simple herbal remedy, a St. Louis doctor suggested a simple recipe of mint and lavender essential oils blended with our organic jojoba oil.
We've sold it in our store for over a year and it is quite popular. Customers tell us it works. We agree.
Simply roll a bit of this minty oil on your forehead, temples and the back of your neck. Goodbye Headache® feels warm as you massage it in with your fingertips. After a few moments, you'll feel a therapeutic coolness, your sinuses will open, and your headache will fade. Use as often as you like—the ingredients are safe and natural.
Mints have long been used in aromatherapy for headaches, nausea and to refresh nasal sinuses. We chose cooling cornmint for its ability to clear your head almost immediately. Jojoba oil enables smooth, easy application and absorbs quickly into the skin.
We don't recommend Goodbye Headache for migraines because the strong scent may worsen an episode.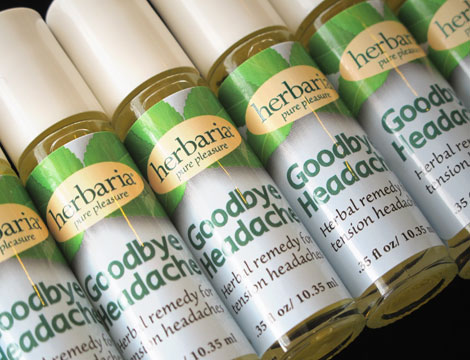 Contains
Categories
Each bottle of Goodbye Headache® counts as 1 bar toward our free bar offer.