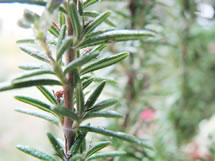 "I'd always had trouble with dry hair and a dry scalp, but Herbaria's products have remedied that. I use the soap bars for shampoo, and when I'm done, I rub in some Jojoba Healthy Hair. My hair's pretty thick, so I use about 4 pumps. The combination of soap and spray leaves my otherwise dry, frizzy hair soft and smooth, and my dandruff has disappeared."
Scott Quinby, St. Charles, MO
"I used it on the ends of my hair before straightening and it made them glossy, kept the frizzies away, and left my hair easy to style. I also found another use when our neighborhood pool opened- rubbed it through my entire head and it seemed to keep the chlorine affects at bay.
The scent is wonderful… herbal, clean, and fresh."
Update 3/24/09:
Herbaria Jojoba Healthy Hair named 'Bionic's Best speciality Jojoba.'
"I use this jojoba for my hair, body, nails… pretty much everything except my face. The scent is absolutely incredible. It makes my skin glow and makes me smell nice without being a heavy scent. My bottle lasts FOREVER!"
Jami Shopf, Bionic Beauty blog
read what other bloggers have to say
We have combined several of our favorite ingredients—organic jojoba oil and essential oils of rosemary, lavender, cedarwood, thyme and basil—to create Jojoba Healthy Hair™, a leave-in conditioner for the luster and nourishment of your hair. For optimum results, massage just a few drops of this non-greasy formula into your hair and scalp. Follow with combing and styling.
Your hair and scalp will benefit from the moisturizing and non-comedogenic properties of jojoba oil. The jojoba will improve the health of your hair without clogging the pores of your scalp. Long used as a natural hair conditioner, it is also a respected remedy for dandruff.
The essential oils we've blended make a wonderfully pleasant scent, appealing both to men and women. Homeopathic literature and scientific studies indicate that these oils help moisturize and repair damaged, dry and brittle hair. In combination with scalp massage, the herbal oils stimulate hair follicles for longer and stronger hair growth. In addition, it is said that rosemary may slow down premature hair loss and graying.
contains
categories
Each bottle of Jojoba Healthy Hair counts as 1 bar toward our free bar offer.