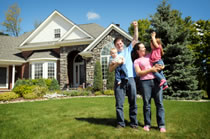 "Been using this deodorant for almost 2 years now, like everyone else, I always get many complements on how good I smell. This is the best!!!! My first bottle lasted a long time, only on second bottle now. Please always keep making this, and never change it! Thank you for truly great, natural products!!!! If you can't already tell, I ALSO LOVE IT!!!!!!! "
Barbara Scott, Phoenix, AZ
"People say all the time, 'You smell so good.' I tell them about Herbaria and how great your products are!"
Marge Anich, St. Louis, MO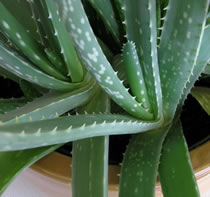 "We're still loving your products. I especially like the new deodorants. I use mine liberally, yet I can tell it's going to last a long time. I've been using it for a few months and it looks like it's only dropped a quarter or a third of an inch in the bottle."
Susan P., Fairbanks, AK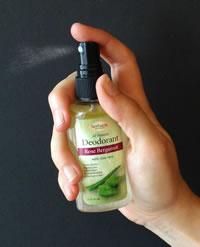 Our all natural spray deodorant eliminates odor-producing bacteria and keeps you feeling fresh from shower to shower. This deodorant is not an antiperspirant, which would reduce sweat by clogging pores. It allows your sensitive underarm skin to breathe as nature intended.
In our deodorant, we avoid synthetically-produced rubbing alcohol. Instead, we use specially denatured grain alcohol as the key ingredient. Grain alcohol is a natural plant product, denatured (made undrinkable) for Herbaria with lavender essential oil.
We draw on essential oils also for their continual antibacterial activity and for their satisfying scents. The Lavender Deodorant blend has a fresh, attractive bouquet. Our Key Lime blend offers a bright citrus fragrance. Both of these blends use a touch of patchouli for a lingering base note. Our spicy, enticing Vetiver takes its base note from Indonesian vetiver. Any of these scents would be fitting for women or men.
These wholesome, gentle products are available in an 8-ounce spray bottle for home or a 2-ounce spray bottle for travel.
Lavender Blend
Key Lime Blend
Vetiver Blend
Woody, earthy, herbaceous, spicy, almost smoky.
Categories
Each bottle of 100% Natural Deodorant counts as 1 bar toward our free bar offer.