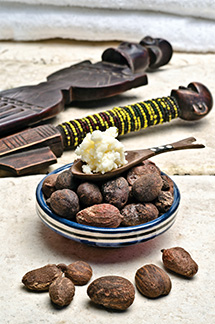 "The ashiness on my legs and arms vanished right away."
Alisha Wilson, Oakland, CA
"I like the unrefined over the refined shea butter because of the natural, nutty scent."
Paulette Martin, St. Louis, MO
While our refined shea butter is odorless and colorless, our Unrefined Shea Butter smells slightly nutty and is beige in color. This raw butter retains treasured nutrients, including vitamins A, E, F and K.
Shea butter can treat eczema, stretch marks, dry scalp, chapped lips, rashes, and minor burns. (If your skin is sensitive, first test for a reaction on a small patch of the affected area.)
Try a nightly application of shea butter on your hands, elbows, knees and feet. The butter absorbs slowly. If you like, cover your treated hands with gloves, your feet with socks. When you wake, you'll have the softest skin ever!
Shea butter can help with acne. You might think to treat pimples by drying skin out, but that causes pores to produce more sebum, the body's natural oil. It is excess sebum that clogs pores. Instead of drying your skin out, moisturize your washed face with a dime-sized dollop of shea butter before going to bed.
This butter is made from the edible nuts of the West African shea tree (Vitellaria paradoxa [previously Butyrospermum parkii]). For centuries, the butter has been revered as an anti-aging cream and moisturizing skin protector.
Herbaria Unrefined Shea Butter has no added preservatives. If you're not using it frequently, store the jar in the refrigerator to extend shelf life beyond six months or so.
Contains
Categories