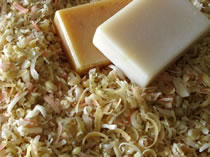 "We recommend hand washing our sweaters and garments in cold water and Burano. It's what we use."
Nina Ganci, Skif International
St. Louis, MO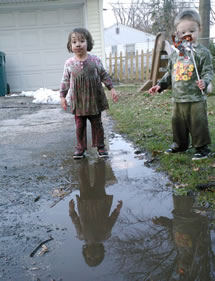 For years, the extended Herbaria family has used soap scraps to do their laundry. Clothes come out clean, soft and smelling good. Colors last longer. We find it better than Woolite for hand washables.
Like all Herbaria products, Burano™ is safe and biodegradable. It's free of detergents, perfumy synthetic fragrances, dyes, enzymes and brighteners. These chemicals remain in clothes and often cause skin irritation.
Burano is simply a mix of our soap odds and ends. It has a light, pleasant scent from the combination of essential oils.
A terrific value, a one-pound package will launder about 20 loads of clothing in a top loading washing machine. For a normal sized load, start with a quarter cup. In a high efficiency front loader, try just two tablespoons. If you wish, allow the soap to dissolve in an inch or two of water before adding clothes. You may want to add borax to help with tough stains.
We'd love hearing about your Burano experiences.
Contains
Categories
Each bag of Burano All Natural Laundry Soap counts as 1 bar toward our free bar offer.