$6.75 per inch.
Soap logs are 2-3/8" x 3-1/4" and up to 11" long.
1 inch of a log is about 5 oz., slightly larger than our standard bar.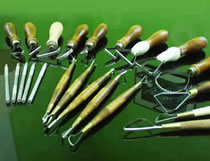 Soap carving is an easy way to sculpt. It's fun for all ages, kids to seniors. Start with a fresh, regular-sized bar or try a chunk from our large soap logs.
You'll enjoy the fragrance of the essential oils of the soaps while you carve, and the finished piece will also have a scent that can last for years. We've selected five varieties for their colorfastness and popularity.
Feel free to post photos of your soap sculptures on the Herbaria Facebook wall.
Gallery