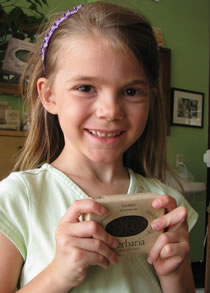 "This isn't just any soap, people. Husby will attest to the quality and let me just say, he doesn't give a flip about soap...usually. The Herbaria Licorice Bar has him won over for good...it makes the entire bathroom smell like it. That's some good soap."
Amanda and Aubrey,
Have Spork, Will Travel blog
read what other bloggers have to say
"I was given a bar of soap by a friend and I absolutely love it! My daughter has very sensitive and dry skin and she has not itched or required repeated lathers of lotion since we started using the soap about two weeks ago."
Kathy Spencer, Fenton, MO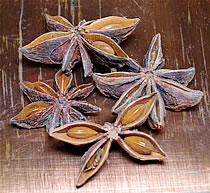 First of all, the intense scent of this bar will knock you out. Sweet black licorice to the max, the fragrance will make you happy every time you step into the bathroom. As in premium licorice candy, star anise is what powers the aromatic olfactory pleasure.
Then, to assure you the herbal benefits of the whole licorice plant, we've added real licorice root to the soap. Long a favorite in traditional and alternative medicine, licorice is reputed to have multiple therapeutic uses from cough syrups to antiviral topicals and more.
Thirdly, you will also smell the delicate fragrance of coconut. This note is not a synthetic perfume but comes from super rich, extra virgin organic coconut oil added for amazingly luxurious moisturizing.
Finally, to make this bar truly a black licorice soap, we incorporate ground black walnut hulls to provide both the color and a wonderfully vigorous abrasive.
Contains
Soap Categories