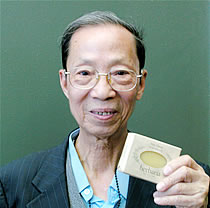 "Wow—I LOVE the May Chang soap. Like taking a shower with lemon meringue pie! It just may turn out to be my new favorite 'flavor' of Herbaria."
Jackie Bunnell, Lawrence, KS
"I just received my order this afternoon. I had already taken a shower this morning but could not resist trying one of my new soaps. They all look wonderful but I decided to try the May Chang first. The smell is divine! The lather was so creamy and my skin feels so soft. I keep putting my forearm up to my nose because the scent is still faintly on my skin. I love my soap!"
Rhonda Thornton, Victorville, CA
"My family loves this soap! May Chang is the absolute favorite for mornings."
Linda Egelhoff, Jerseyville, IL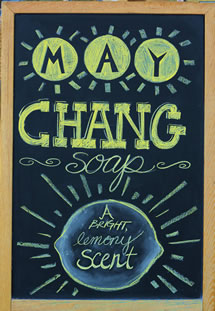 Our May Chang bar is guaranteed to energize your day and put you in a sunny mood. May Chang smells intensely lemony yet the fragrance is sweeter and fruitier. The bar is smooth and creamy with a golden yellow color from turmeric.
What's may chang? It's the common name of Litsea cubeba, a member of the Laurel family growing in East Asia. Its leaves are loaded with citral, which also imparts the scent to lemon verbena. Lemon verbena essential oil, used in perfumes, would be too expensive to use in our soap. Besides, honestly, we think may chang smells brighter and fresher.
The first-rate cleansing benefits of this bar work well for face and body. In addition, it is said to relieve oily skin and acne and provide a calming effect on the nervous system.
Contains
Soap Categories