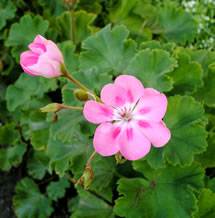 "The rose geranium soap has a fragrance so warm and comforting. Thank you for making such eco-wise products!"
Jennifer Kingman, Monument Beach, MA
"The Rose Geranium bar is a winner. The scent is lovely, and the clay adds a creamy consistency to the lather that I adore."
Nancy Hobson, St. Louis, MO
The romantic scent of this soap will brighten your spirits as you clean, tone and moisturize your skin. The natural fragrance comes from the essential oil of Egyptian rose geranium. Palmarosa, another rosy-scented essential oil, moderates the sweetness to create a fuller and more complex aroma.
The Rose Geranium bar is one of our few floral-scented soaps. We cannot use real rose extractions because they are prohibitively expensive, added only to costly perfumes. And our products never contain synthetic fragrance oils.
Soothing, and gentle enough for sensitive skin, this soap promotes the body's natural ability to balance oil production. We add Australian pink clay not only to create the lovely pink color but also to provide its softening and conditioning qualities. Our emollient in this bar is avocado oil.
Contains
Soap Categories