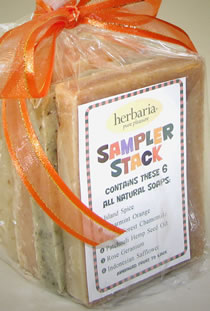 "I just received my soap order...when I opened the mailbox this wonderful aroma wafted out! I love, love, love the soaps—could hardly wait to take a shower! Thank you so much for the carefully crafted product!"
Christine Amaryllis Haskell, Leander, TX
"Your soaps are amazing! Simply amazing. They leave my skin feeling natural and great!"
Trish Belenson, Sacramento, CA
"The soap is such a hit with my family and we fight over it at bath time."
Meleani Matson, Clayton, MO
Regular price: $14.95
Looking to try a few of our many scents? Every cellophane bag contains six different soap "ends." Total weight is more than two regular sized bars—at least 11 ounces. Each stack purchased counts as one bar toward our free bar offer.
Sampler Stacks contain random selections. A label identifies the varieties. We don't include dog shampoo or scent-free varieties. Although we do not offer custom selections, we'll be sure you get different mixes if you order more than one.
Where do the ends come from? We make our soap in large block molds. We slice the blocks into logs and then we cut the logs into bars. There are two ends left from each log, like heels from a loaf of bread.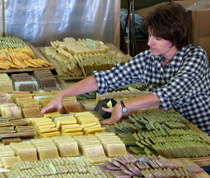 Soap Categories