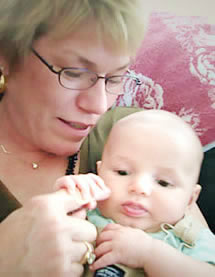 "I love your Biotherapy Skincare, Sensitive Skin Fragrance Free, and anything with tea tree oil. Your soaps are the best!!"
Elizabeth Young, Metairie, LA
"Your Sensitive Skin soap has helped calm my rosacea much better than the over-the-counter cleanser my dermatologist suggested. Within two days of switching to yours, I could see a marked improvement in the redness and dryness. Don't EVER stop making the Sensitive Skin soap!"
Sue Marsh, Irmo, SC
"I absolutely love your sensitive skin/fragrance free soap! I'm allergic to pretty much everything out there but this is the first soap that I can just lather, rinse and go, without worrying about itching or getting a rash. Perfect for both face and body. Thanks for making a no-frills, fantastic product."
Megumi Rinaldi, New York City, NY
"Hi, I just wanted to let you know how much I love your Sensitive Skin Fragrance Free. It smells sooooooo good, just fresh and natural! I have tried other bar soaps over the years and the scents or something in them always made me itch. This one is awesome. My daughter bought me five for Christmas and when I go in my bathroom it smells so good!! Can't wait to take showers now, LOL! P.S. I've tried other fragrance free soaps and this one is much, much better!!"
Vicki Brown, Troy, OH
You may have suffered skin irritations from using commercial bath products. We sympathize. That's why we make a soap you can truly trust. Many of our customers order this bar by the dozen, time after time. They find its cleansing, lathering and moisturizing perfect for their skin care.
For many years we sold this bar as "Baby & Me Fragrance Free" because it is gentle enough for a baby's skin and scalp. Adults also use it as a face and body bar, even for shampoo. It is superfatted with shea butter and avocado oil, two of nature's richest emollients, to keep your skin soft, smooth, and comfortable all day long. Sensitive Skin Fragrance Free is LaRee's favorite soap.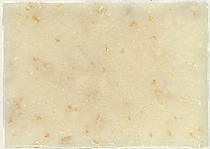 To offer a little variety, we now make this popular bar with oatmeal. Oatmeal exfoliates, or removes, dead skin cells. It also offers colloidal benefits to further soothe and moisturize your skin.
By the way, there's a good chance that, without any problem, you may be able to enjoy many of our scented varieties. The trouble you experienced in the past from other soaps could have been reactions to their harsh detergents, chemical preservatives and colorants, or synthetic perfumes. We use no preservatives. Our colors and fragrances all come from natural sources, such as clays and plants.
We're eager to hear about how your skin feels from using our soaps. Drop us an e-mail.
Contains
Soap Categories