Wholesale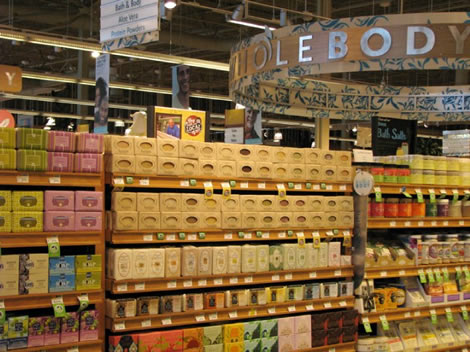 Important Information
Thank you for your interest in selling our soaps and other Herbaria products. This wholesale information is not linked from our main web site, so we encourage you to bookmark this page for future reference.
To be clear about our business arrangement, we reserve the right to be the sole online sellers of our goods. However, our online customers routinely ask where to buy Herbaria products in stores near them.
Pricing
Most Herbaria soaps retail for $5.95 per bar and wholesale for $2.98. Our premium bars retail for $8.49 per bar and wholesale for $4.25.
Our other products wholesale for half the retail cost.
Please note that wholesale customers do not qualify either for our "buy 6 get 1 free" offer or for free shipping.
Shipping information
Wholesale customers pay shipping charges. We've figured out the lowest rates available and that's exactly what we charge you. For example, we pack 45 bars in a USPS Medium Flat Rate Priority Mail box that ships for just $11.30 The shipping price quoted on the web site is a good approximation of the actual final cost, though if we're able to ship for less, we will adjust your price accordingly and notify you.
USPS is our standard carrier. If you want a different shipper, please contact us.
Minimum orders
Order as few or as many items as you like. Larger orders will save on shipping.
Ordering online
We've made it easy for wholesale customers to order online. Please take the following steps to ensure you receive wholesale pricing:
Create an online account
If you don't already have an online account, you may create one through the Create Account link at the top-right of every page. At this point, you will have an online retail account.
Request wholesale account priviliges
E-mail us or call us at 866-628-7627 to request that we upgrade your account to wholesale status.
Log in
Once you have logged in under your wholesale account, all prices on the site will reflect wholesale prices.
If you order online without first logging in under a wholesale account, you will see only retail prices, but you can still place your order. Just request wholesale status in the comments box at checkout, and we will adjust your order accordingly. You will not be charged retail because orders are processed by real people here at Herbaria.
Point of purchase displays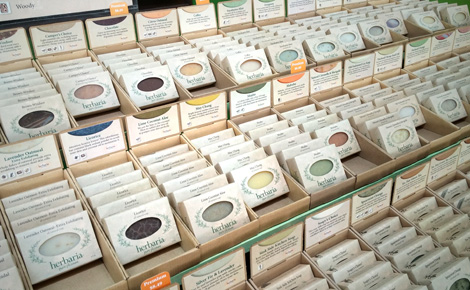 6-bar refillable cardboard display boxes are available free by request only with your purchase of a dozen bars of a single variety. These boxes show off and dispense our soaps to their best advantage.

6-bar display boxes with Herbaria front panel refill easily and keep bars neat.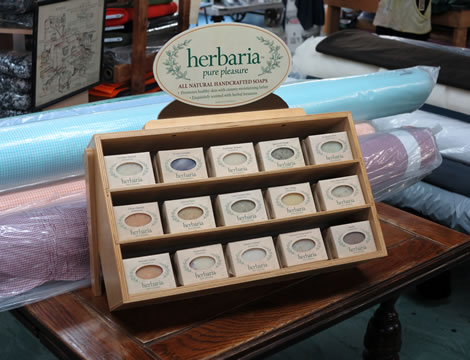 60-bar wood display cabinets are available for $60. Each cabinet holds 4 bars of 15 varieties of our soaps.
Hints for success
You and your staff should try our soap. Customers will believe you when you say, "I use this soap myself and love it."
You won't want to run out of Lavender Oatmeal. It's always a top seller. See other bestsellers.
Offer a wide selection and your customers will be tempted to buy more.
Offer a "buy six, get one free" promotion. Our online customers love it, and we find the extra sales far outweigh the cost of the free bars.
Selling points
Our soaps sell well because they are:
scented only with essential oils, not synthetic fragrances.
real soap, all natural, vegan, made with food grade ingredients and not tested on animals. Herbaria meets the standard for Premium Body Care products at Whole Foods Markets.
healthy, moisturizing, extra long lasting.
available in over 60 tantalizing varieties with many perfect for holiday gifts.
beautiful and attractively packaged.
biodegradable and environmentally friendly.
Marketing advantages
You will do well selling Herbaria because:
Our soaps are competitively priced compared to other premium quality soaps.
Our soaps have sold profitably for over ten years at natural food stores, gift shops, local fairs and on our web site.
Your customers are looking for local, handcrafted soaps.
We service and ship to you directly, and take a personal interest in your success.
You can order by phone or online and we'll ship the same or next day.
We provide a variety of point of purchase displays.
We're here to help
If we can assist you in any way, please call us at 866-OAT-SOAP
(866-628-7627).