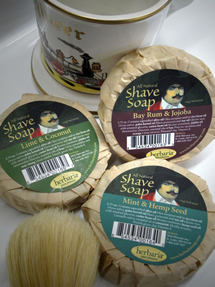 Our aftershaves are super skin conditioners. They contain several simple natural ingredients to make your skin feel comfortable all day, even after your closest shave. (That goes for you, too, ladies.)
As in all Herbaria products, you will find no artificial fragrance, only pure essential oils. Our aftershaves are not colognes with cloying scents that stick around--the guest who doesn't leave.
The first thing you'll smell when you sniff the aftershave is the main ingredient, witch hazel. There's no better tonic or toner to put on your skin, especially problem skin. Very soon, the witch hazel evaporates and the aromas of the essential oils emerge: classic Bay Rum, cooling 7 Mints, and Lavender.
We don't add emulsifiers or stabilizers that might irritate your skin, so before you use your aftershave, shake the bottle to blend these trusted ingredients:
Witch hazel—an astringent that helps close pores and protects your skin.
Hemp seed oil—a moisturizer to soothe your skin without clogging pores.
Aloe vera— a trusted herb to help heal skin and reduce inflammation.
Specially denatured grain alcohol—an antiseptic that prevents infection.
The three varieties are described below.
7 Mints

The Lamiaceae, or Mint family is a remarkable group of herbs. Seven different genera of the mint family make 7 Mints a super aftershave.

The genus Mentha includes Mentha piperata, peppermint. The peppermint will cool your skin after your shave. The six other mints combine to make this unique and beautiful herbal scent. They include: rosemary Rosmarinus officinalis, marjoram Origanum majorana, clary sage Salvia sclarea, basil Ocimum basilicum, lavender Lavandula angustifolia, and thyme Thymus vulgaris.
Bay Rum

Bay Rum is that classic spicy scent from the West Indies. The West Indian bay is related to allspice. Orange is another component of the fragrance and we've used petitgrain. That essential oil comes from the twigs and leaves of the orange tree and poses no photosensitization problems, common with citrus oils, for your skin. To round out the scent it has bit of clove.
Lavender

Lavender is the major component of this after shave. It is equally appealing to both men, like Frank Sinatra, and women, who shave many more square inches than most men.

Contains
Categories