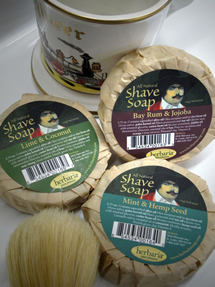 "Very creamy and quick to lather. With slick, moist workability, the razor has no problem gliding over tough to get to places."
Bill Sahadi, Southern Pines, NC
"Your shower method of shaving rocks. No more messy sink."
Chris Moritz, St. Louis, MO
Unless you shave with our soaps, you're subjecting your face to an astounding assault of petrochemicals, detergents, preservatives and synthetic fragrances. Ouch!
By contrast, the wholesome ingredients in our shave pucks are especially kind to your skin. They are rich with moisturizing emollients and produce slick, cushiony, long-lasting lather. We guarantee you a close, comfortable shave, especially if you follow our suggestions to enjoy the best shave ever.
We offer three superb combinations of scent and moisturizer. As in all our products, we use only essential oils for their complex and alluring aromas. Natural clays are added for lubrication and thickness.
Bay Rum & Jojoba Oil
Classic gentleman's scent from the West Indies, spicy with a hint of orange.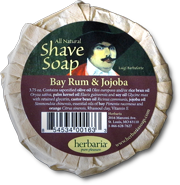 Mint & Hemp Seed Oil
Your face will feel cool and refreshed from cornmint, which is loaded with natural menthol.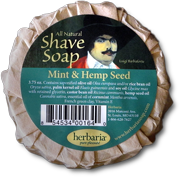 Lime & Coconut Oil
Fresh squeezed, tropical lime with coconut added for both scent and really soft skin.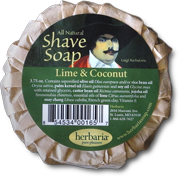 | | |
| --- | --- |
| *The legend of Luigi developed when we needed a dashing gent for our shave soap labels. | Soap Categories |