About Herbaria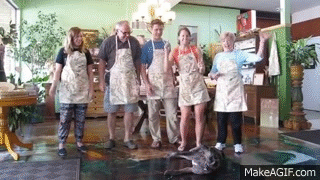 Left to right: Emma, Ken, Blake, Melissa, Kimmy. Soapy in front.

Meet Our Team
You might like to have faces to associate with the names of those who sign your orders, answer the phone and make the products you love. We're a small but mighty company.

We also depend on our indispensable contracted professionals:
Compusmile Scott Quinby maintains our website and IT complexities.
EE Accounting Eileen Eddington, keeps our books. She does so much more than pay bills and track expenses.
Writer in Residence Nancy Hobson, helps us clearly express what we and our products are all about.

How We Started
LaRee DeFreece made our first batch of soap in 2001. She suffered from dry, sensitive, sun-damaged skin and was fed up with store-bought soaps. Nearly all contained harsh detergents and synthetic fragrance. She set out to craft a gentle, moisturizing, all natural soap.

After much research and numerous experiments, she created the basic recipe all Herbaria soaps are made with today. LaRee gave samples to her friends to try. "Best soap I've ever used," they'd all say.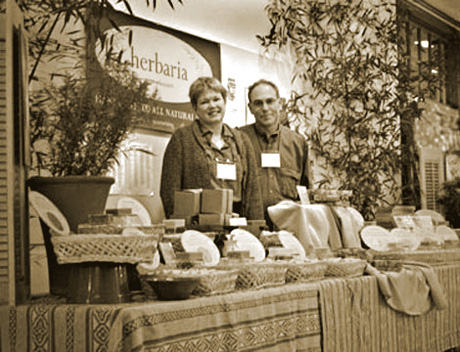 LaRee and Ken at an early craft fair.

The first Herbaria soaps made a splash in the Best of Missouri Market at Missouri Botanical Garden. Soon after, LaRee returned to her law career and her husband, Ken Gilberg took over. His background in botany, cooking, photography, graphic arts and marketing continue to advance the business. Ken moved production from the kitchen to the basement of their home.

In 2009, Herbaria moved to our current location, a large, bright store and workshop on the much-visited old Italian section of St. Louis, the Hill. We began offering tours of the soap making factory.

Today
Herbaria ships to all fifty states and numerous countries. Many customers are Herbaria addicts. They insist our soaps have solved their skin problems, such as eczema and rosacea.
We love what we do and are grateful for your support. Herbaria is devoted to creating all-natural vegan products healthy for people, pets and the environment. We believe in what we make and guarantee your satisfaction.