About Us
LaRee DeFreece made her first batch of soap in 2001. Unsatisfied with store-bought soaps made with harsh detergents and synthetic fragrance, she set out to make a gentle, moisturizing and all natural soap more conducive to healthy skin. After numerous experiments, she came up with the basic recipe all Herbaria soaps are made with today. LaRee gave soaps to her friends to try. "This is the best soap I've ever used," they'd say.
She debuted Herbaria soaps at the Best of Missouri Market at the Missouri Botanical Garden with her husband, Ken Gilberg. They encountered many people looking for just such a soap. Soon after, she returned to her career in law and Ken embraced the opportunity to take the lead. His background in botany, cooking, graphic arts and marketing were helpful assets to advance the business.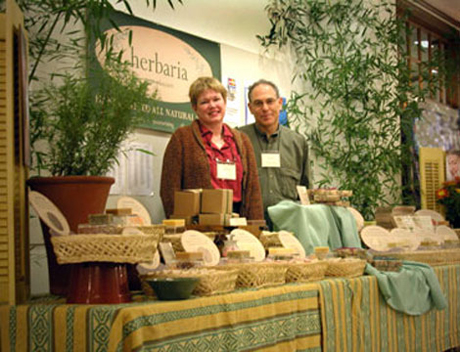 Ten years later, the store sells in in all fifty states and several countries. Many customers are Herbaria addicts. They claim the all-natural soaps have helped solve skin problems from eczema to rosacea.
In 2009, Herbaria moved to their current home, a large, airy storefront on "the Hill" in St. Louis. You can tour the facility, see how real soap is made and learn why Herbaria is better for you.
We love what we do.
We are grateful to have a business devoted to creating all-natural products that are healthy for people, pets and the environment. We believe in our products. Satisfaction guaranteed.