Naturally Healthy, Beautiful Skin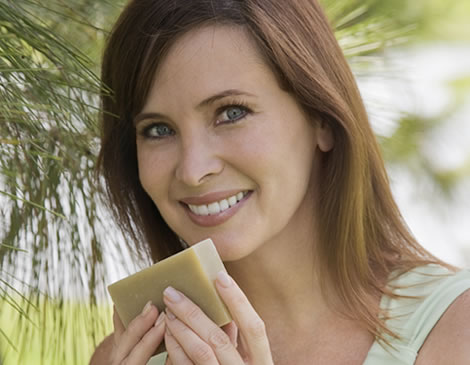 Are you looking for a solution to your skin problems?
You are not alone. We frequently receive requests for help in relieving common skin ailments.
Historically, it seems a lot of skin troubles began in 1958 when Zest hit the market. Proctor & Gamble, Zest's maker, was the first company to utilize cheap, harsh detergents in a body bar. Many other manufacturers followed suit. Nowadays, nearly every readily available "soap" is really detergent, which tends to dry and irritate skin. Synthetic fragrances (perfumes) in these products are said to be among the top five allergens in the world.
Customers tell us about their dry, itchy skin, contact dermatitis, rashes, poison ivy, eczema, psoriasis, rosacea, pimples, acne and hives (urticaria). In addition, we hear from folks with skin needs related to diabetes, cancer treatments (particularly chemotherapy and radiation), shingles, scabies and other uncomfortable inflammations. We sympathize with their struggles.
We make no claim that we can cure a particular dermatological condition. Acne, for instance, may develop from a hormonal imbalance and soap obviously wouldn't affect hormone levels. However, scientific studies have shown that many skin conditions are caused or inflamed by harmful ingredients and additives in commercial bath and beauty products.
Our gentle soaps simply cleanse you and keep your skin healthy.
Without irritating preservatives, colorants and synthetic fragrances, your skin has a chance to rebalance its innate healing abilities and to strengthen the production of vigorous new cells. Our soaps will not dry out your skin. Every bar contains extra emollients—natural lubricants—to leave your skin with a healthy finish of moisturizing protection.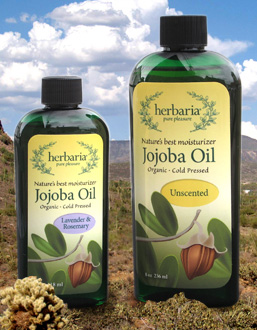 Under certain circumstances, such as cold, dry weather or compromised skin, you may want or need a supplementary moisturizer. The best moisturizer we have found is Organic Jojoba Oil. It is easy to apply and absorbs very quickly. Unlike many body lotions, it contains no water, alcohol, mineral oil, or artificial fragrances.
To choose from Herbaria's large selection of soaps, we offer these suggestions:
People prone to allergies may want to start with our LaRee's Scent Free soap. It has no added fragrances, and it packs a double dose of moisturizers to soothe and protect your skin. Try it with or without oatmeal.
By choosing it first, you'll know you are okay with the basic ingredients in all of our soaps. Once you've found that LaRee's Scent Free works for you, try others.
It is an easy step to Lavender Oatmeal. We have not heard anyone say that they were allergic to this bar. Lavender essential oil is healing and relaxing. We would also recommend our other bars containing time-honored oatmeal.
Biotherapy Skincare contains a good blend of essential oils known to benefit problem skin. It has soothing oatmeal and has an emollient that won't clog pores.
Before you resort to powerful prescription drugs and fungicidal treatments, try the natural antibacterial, antifungal, antiviral Tea Tree Green Tea. You may also want to search through our wellness index.
We wish all of you good health and success with your skin needs. Please let us know what works for you and whether we may share your story with others.