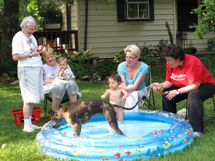 "Your almond bar is so sensual and smooth. I love it."
Steffanie Wells, Kansas City, MO
"I've been using your soaps ever since my first purchase. They smell wonderful, lather well, and leave my skin so very soft. Add another happy customer to your list :)"
Jen Chatfield, St. Louis, MO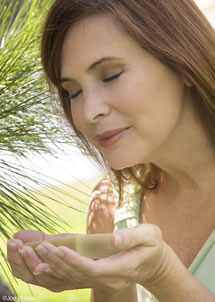 "We were at a farmer's market recently and saw a booth selling all-natural hand-made soaps, with various and sundry exotic ingredient combinations. Being a soap addict, I couldn't resist sniffing a few bars. They were utterly dismal compared to yours. Honestly. My husband took one look at them, turned up his nose and muttered 'They're not as good as OUR soap.'"
Martha Austen Vender,
San Francisco, CA
Almond Green Tea tops our list of over 60 soap varieties, all exceptionally moisturizing, lathering, and long lasting. To create the rich, characteristic almond aroma of Almond Green Tea, we add to our base costly essential oil of bitter almond, prized for its marzipan scent. We do not use imitation almond flavoring. We refuse to use synthetic fragrance oils in any of our products.
Beyond its beautiful bouquet, Almond Green Tea doubles the health benefits to your skin, from head to toe. The emollient in this bar, sweet almond oil, is easily absorbed through the skin and nurtures it with calcium, magnesium, Vitamins A, B1, B2, B6 and E.
Green tea, the source of the warm brown color of the bar, is a natural antiseptic. Laboratory research indicates that green tea, an antioxidant, reduces free radicals and thereby provides a layer of protection against skin cancer and aging. We suggest Almond Green Tea for breakouts, blemishes and sunburns.
Contains
Soap Categories
This is one of Herbaria's premium soaps. The special ingredients make it a little more expensive, but we know you'll think it's worth it!