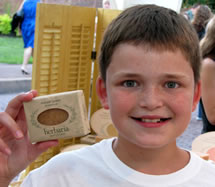 "Very happy return customer ... I have converted three sisters and a daughter-in-law to your wonderful soaps."
Nancy Bennett, Martinsville, IN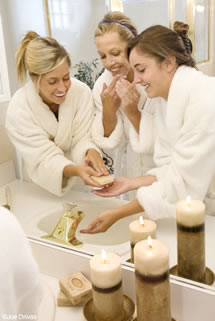 "Your soap came in the mail Wednesday. I had my first shower that night and I fell in love with this soap. I feel so clean and soft when I get out of the bath. And I don't walk around in a cloud of perfume all day. I just have a clean smell. That is just what I wanted. Thank you for having such a special product."
Wanda J. Koerner, Alum Bridge, WV
This soap will brighten your bath or shower with its crisp, clean fragrance. The vivid citrus scent comes from tangy lemon, fresh lemongrass and zesty orange essential oils. Finely-ground dried lemon adds texture to the bar for a gentle exfoliant.
Avocado oil in the bar provides soothing benefits to your whole body. The oil is anti-bacterial and well known for healing skin irritations. It's also high in Vitamin E, a powerful antioxidant. Regular use may help you look younger.
This is one of LaRee's original varieties and it remains a favorite of many customers.
Contains
Soap Categories