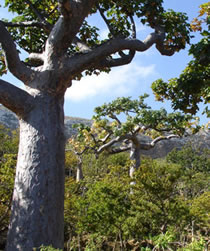 "I've had to use common soaps and I just didn't feel as clean as when I use Herbaria."
Ruth Smiley, Grove, OK
"The new Frankincense and Myrrh is my absolute favorite. Thanks for letting me try it."
Maxine Stone, Webster Groves, MO
"I plan to put this bar in every bathroom this Christmas!"
Jeannie Griffin, Farmington, MO
These two ancient fragrances have been revered for over 5,000 years. Renowned as the gift of the Magi to the baby Jesus, and even more valuable than the gold they brought, frankincense and myrrh offered a multitude of medicinal qualities in addition to their heavenly scents.
As with all our soaps, Herbaria does not use imitation fragrances. To make this soap, we add genuine steam distilled essential oils imported from Somalia. These costly oils account for the bar's premium price. The frankincense is derived from a resin of the Boswellia carterii tree; the myrrh is a resin from the Commifora myrrha tree.
Finely ground Rhassoul clay, from the Atlas Mountains of Morocco, is marbled into this bar to provide a mineral-rich toner. Shea butter, also from Africa, moisturizes and protects your skin.
Homeopathic literature claims that frankincense is spiritually healing and calming, and also skin-regenerative, antiseptic, anti-carcinogenic, anti-inflammatory and an antidepressant. It can be especially beneficial to the respiratory system for coughs, bronchitis, colds and flu. We make no claims—we simply believe you will find this soap a royal treasure.
Contains
Soap Categories
This is one of Herbaria's premium soaps. The special ingredients make it a little more expensive, but we know you'll think it's worth it!