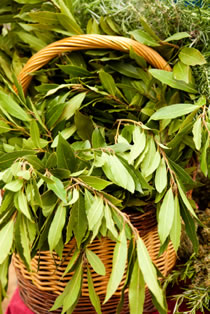 "I just love the way my girlfriend smells after showering with this soap. It's heavenly."
Ben Poremba, St. Louis, MO
"The scent was elusive when I first smelled it but when I took it home and used it, it was fabulous. I love it!"
LaVerne Fitzgerald, Farmington, MO
When photographer Steve Adams, Ken's friend, recently returned from Provence, he reported seeing many vendors of Savon d'Alep. It's a soap from an ancient Syrian recipe that employs laurel for fragrance and color. Steve asked if Herbaria made anything like that.
His suggestion was the impetus to create a soap Ken had been wanting to make for some time. Ken loves the smell of sweet bay laurel, which many of you cooks also enjoy.
Ken was anxious to use another favorite essential oil, Sugandh Kokila, not well known in the U.S., but treasured in perfumery. Kokila, commonly called laurel berry, comes from a tree that grows in the Himalayas in Nepal.
Ken combined the sweet bay laurel (Laurus nobilis) and the laurel berry (Cinnamomum glaucescens), two stellar fragrances from the Laurel family. The result: this magically enchanting Laurel Leaf & Berry soap. The fragrance is aromatic and spicy, camphor-like, warm and woody.
The creation of this bar has recalled this message from a customer in Belgium.
"Having grown up in Southern Turkey, I am used to 100% natural homemade olive oil soaps. Every year, the family who sold us our citrus plants sent us their native olive oil and the soaps they made. I tried different kinds of soaps from different places in Belgium, but none of them made me happy. I even bought what they call here in French, Savon d'Alep, which is supposed to be the soap I am used to, but again, was not happy with the results. Now that I've used your soaps, I have to confess that they are the best soaps I have ever used in my life. They are seriously, unbelievably soooo good!"
Ayse Ozler, Mechelen, Belgium
Contains
Soap Categories