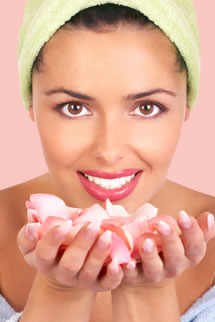 "Pink is my FAVORITE color!"
Claire Chosid, St. Louis, MO
"Rosy, but not flowery sweet. Perfect!"
Jackie Bunnell, Lawrence, KS
"This is a youthful, fresh smelling rose scent, not cloying."
Ashley Murphy, St. Louis, MO
In color and scent, Rosy Bouquet comes closest to the fresh bloom of a pink rose. It is musky, sweet, spicy, and heady. We've created this complex scent and beautiful color using six essential oils and pure henna oil.
This bar has been years in the making because genuine rose oil would be far too costly to use in a soap and our products never contain synthetic fragrance oils.
The henna oil we use is different from the powdered henna used for hair color and decorative skin art. We have not seen any sign of staining on skin or washcloths.
You'll find this bar to be a joy because not only does it smell delightful but also it is extra moisturizing. The smooth bar has no added texture and makes a silky, creamy lather. We invite you to an elegant, deeply satisfying bathing experience.
Contains
Categories