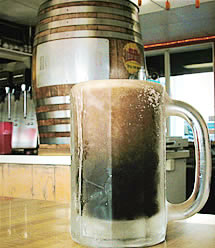 "I just got out of the shower after using the new Sassafras Birch soap. I LOVE it!!!!! It smells so good. The smell reminds me of my childhood. You have a real winner with this one!"
Claire Chosid, Town and Country, MO
The root beer scent, also associated with birch beer and sarsaparilla, comes from essential oil of white birch. The hint of wintergreen is also from birch.
Ground sassafras root and bark is added to the bar to lightly exfoliate the skin. The sassafras also makes the bar a lovely purple shade.
Like all Herbaria soaps, Sassafras Birch is first and foremost a great soap with terrific lather and moisturizing hemp seed oil.
Contains
Soap Categories
This is one of Herbaria's premium soaps. The special ingredients make it a little more expensive, but we know you'll think it's worth it!