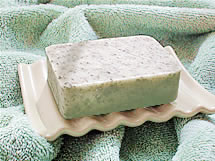 "My husband Dale and I are hooked on your Spearmint Orange, and he is loathe to bathe without it."
Jean Ponzi, St. Louis, MO
"This will be my second order and surely not my last. I have to tell you that my husband, son and I fight over who gets to pick the next bar of soap. We've gone as far as picking out which soaps go at which sinks. I can't wait to try new fragrances. I've shared the soaps with my family and they are all very grateful. We have a history of eczema and rosacea in our family and your soap has done wonders. Itchy skin is a thing of the past!! My 7 year old would like you to know that his favorite is Spearmint Orange. He has picked that one for his bathroom. No one else can touch that one."
Jennifer Hertel, Kenosha, WI
"Good enough to eat," says Joe DeGregorio, who leads tours of our Hill neighborhood. "I wish my mother had this bar when she washed my mouth out with soap." Spearmint Orange will set you to smiling with every sniff. Kids love it. It's one of our two most popular bars.
The menthol in spearmint is a naturally relaxing aromatic, often suggested for the tensions of stressed-out living. It is also a natural decongestant that helps to open sinuses.
In the shower, this bar is as invigorating as that sparkling February day, in New York City's Central Park, when we experienced the fabulous "Gates" of Christo and Jeanne-Claude. What a thrill!
Contains
Soap Categories