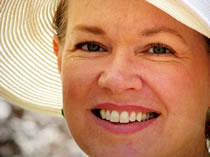 "The tomato soap has much more lather than I expected and a smooth, velvety feeling after using it. Not always do we 'feel' the ingredients but knowing what they do for our body is a big plus to me."
Bill Bernick, Grants Pass, OR
"Just to let you know—my puppy rumbled with a skunk last night—this morning I bathed her with Lycopene Tomato! She smells so much better! Thanks!!"
Lloyda Burke, Clinton, MA
"I really liked the tomato soap. I've used it every day this week and my skin feels great."
Sandy Tricamo, St. Louis, MO
"I'm in love with the Lycopene Tomato—who knew the tomato was so versatile?"
Emily Greene, Boston, MA
"I love it! My husband asked me how I keep my skin so soft and young looking."
M. Bondy, Westminister, CA
Can you guess the two surprises in this bar? One is the scent, like sweet potato pie. The other: it's an outstanding complexion bar.
For several years, we've sold this exact same bar with the name of Lycopene Tomato. It has plenty of fans. They love what it does for them, but too many other customers overlook this exceptional bar.

Lycopene in tomatoes is a terrific antioxidant. It nourishes skin cells and helps protect you from the assault of environmental pollutants.
Some people tell us they found our tomato soap searching for Burt's Bees Garden Tomato Complexion Soap. Burt's bar was discontinued. We like his idea but we're sure our bar is even better. Ours is all natural. We use no synthetic fragrance and we put a lot of dried tomato in every bar.  And, oh! What a gorgeous russet-red color it makes.
Wash your face as you normally would--massage with the moisturizing lather. It will remove makeup and the day's layer of oils and dirt. You'll also enjoy using the soap on your entire body.
The scent is a dazzling blend of juniper berry, clove, may chang, patchouli and orange essential oils. You'll smell the tomatoes, too. "It's like I just plucked this bar fresh from the vine," exclaimed a store customer.
To boost its skin care value and to preserve the freshness of the bar, we include a dose of Vitamin E oil (mixed tocopherols). Your whole body will absorb the goodness of this bar, day after day.
Contains
Soap Categories