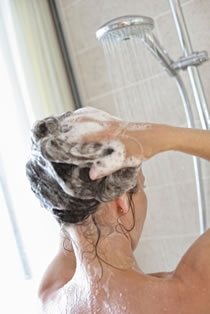 How to shampoo with Traveler's Choice™
Wet your hair well.
Rub the bar directly on your hair.
Lather and massage it in.
Rinse well.
You don't necessarily have to use conditioner.
"Makes a lot of lather, is easy to wash with, and rinses easily. You now have another customer for life."
Irene Armada, Miami, FL
"It cleans your hair without removing all its natural oils and leaves hair manageable. Gentle on your scalp. Is great for washing hair, and can be used as your soap and shaving cream as well!"
Jen Hill, Mythbuster Beauty Blog
"I'm enjoying your shampoo bar. My hair used to go from brittle to slimy depending on products used. Now it's clean and perky. No more bad hair days! I'm a faithful and content customer."
Mary Granato, Ravena, NY
"Simply the best... We can't get enough of your soap... We are going crazy showering just to use it and our skin has never been softer. Last night I ran a test: I shampooed my hair with your soap and just rinsed — no other hair products. This morning my hair looks great. It's soft and manageable. We're hooked!"
Pamela Ferentzy, Port St. Lucie, FL
"Just wanted to share with you how wonderful your soap is. A year ago I developed an extremely flaky scalp. My daughter would warn me when it was 'snowing'!
"From January to June I saw four different specialists and spent over $500 on doctors, medicine, and every shampoo for flaky scalps they make. Nothing worked. My scalp still flaked and a rash developed on my face, eyelids, and shoulders. In June, I visited your store for the first time. When I saw the Jojoba Shampoo bar, I had to give it a try.
"I no longer have a flaky scalp or facial rash. It was amazing how little of the soap you need to get a nice rich lather. All I can say is that if you ever go out of business, I don't know what I would do. Thank you so much for making such and wonderful, natural product."
Jan L, Crestwood, MO
We've sold this soap for years as Jojoba Shampoo. The only difference besides the name change is that we eliminated the labor intensive swirl we'd put on the surface of each Jojoba Shampoo bar.
Why the name change? This solid bar is perfect for travel because it multitasks as shampoo, face and body soap, and shave cream. Since airline regulations limit liquids in carry-on luggage, you'll zip through TSA inspections.

If you are one of the thousands who love our all natural Jojoba Shampoo, fear not. Your hair will be treated to the same gentle cleaning and copious lather. Like all of our soaps, Traveler's Choice contains no detergents, phthalates or synthetic fragrances.
Jojoba oil, the extra moisturizer in this shampoo, may help alleviate dandruff and dry, irritated scalps. Jojoba oil also makes hair lustrous.
Rosemary and petitgrain create the light fragrance. These essential oils have a reputation of herbal benefits for hair and scalp.
Do I need a conditioning rinse?
Some of our customers use a vinegar rinse. But WAIT! We promise you won't end up smelling like a pickle. The rinse leaves their hair even shinier and more manageable, users report.

Rinse after every shampoo or less often if you like. The rinse works to remove any soap build-up and to smooth out the cuticle layer of hair follicles.
Shake 4-8 tablespoons of white or cider vinegar with 16 ounces of water in a plastic bottle. Pour the solution through your hair and let it sit for a minute. Run fresh water lightly over your head and towel your hair dry.
What's wrong with commercial shampoos?
Commercial shampoos are often harsh detergents that strip hair entirely and use chemical additives to correct the problems created by stripping. In addition, sodium lauryl sulfate and sodium laureth sulfate, often manufactured from petroleum, are detergents added to create foam as you shampoo. These same substances occur in car washes, engine degreasers, and garage floor cleansers. If you experience eye or scalp irritation, or tangled hair after shampooing, sodium sulfates are likely causes.
Two other petroleum derivatives in shampoo formulas, propylene glycol and butylene glycol, soak into skin and debilitate protein and cellular structures. Consider whether you want a substance on your hair that can remove barnacles from boats and is found also in industrial-strength antifreeze.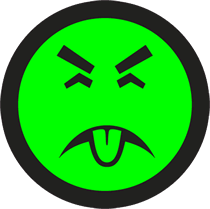 Also check your commercial shampoos for parabens (methyl, ethyl, propyl, or butyl). These chemicals extend the life of bottled shampoos by limiting microbial growth, but they have a negative effect on our natural hormone production. Because they are estrogenic, our exposure to them may be a link to breast cancer.
To avoid other cancer-related agents, you will want to be on the alert for synthetic colors and dyes. They are shown in animal studies to be carcinogenic. These additives carry the label FD&C or D&C and are followed by the name of a color with a number: FD&C Red No. 6, for example.
Carcinogenic as well are diethanolamine and triethanolamine, used as emulsifying and foaming additives. It is the ammonia in their chemistry that delivers the toxicity. Ammonia is also capable of causing eye irritations, other allergic reactions, and, paradoxically, dry hair and skin.
Travel Checklist
Have you ever gone away and forgotten to pack your undies?
Download this Travel Checklist (PDF) or copy this list to your computer. Add items as your voyages demand. Remember that less is more when traveling, except for money.
Arrange babysitters, pet sitters.
Identification: passport, visas, drivers license, birth certificate
Tickets: travel information,
e-tickets
Money: cash, credit cards, travelers checks
Emergency contacts
Itinerary: guidebooks, maps, information, printouts from web searches
Underwear, T's, socks
Shirts, pants, shorts
Dress up-jacket, tie
Shoes: dress, tennis, walking, boots, flip-flops
Outerwear: sweater, sweatshirt, coat, rain gear, gloves
Robe, towel

Watch/travel alarm
Laptop, charger
Cell phone, charger
Vitamins, supplements, medications
Toiletries: toothpaste, comb, deodorant, shaving gear, soap, aspirin, antacid
Swiss knife, with a tiny flashlight
(in luggage, not carry-on)
Camera, compact flash cards, batteries and charger, tripods
Swim suit
Mask, snorkel, fins, booties
Hat, sunscreen, insect repellent
Binoculars, nature guide books, compass
Water, snacks
Gifts
Contains
Soap Categories