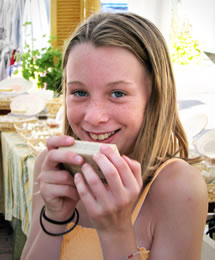 "I get a flood of pleasant memories from the fragrance of your Vanilla soap, like warm homemade vanilla pudding or a creamy vanilla shake from Carvel."
Lynn Marisol, Trenton, NJ
"I love the simple, sweet scent of vanilla. The soap will be a luxurious addition to my morning routine."
Hanna Kahn, Chicago, IL
Customers have been asking for a vanilla bar for many years but we steadfastly refuse to use synthetic fragrance oils. Recently, however, we have discovered a source for a natural vanilla infusion that we find absolutely delightful. You will too.
You'll love the homey, fresh baked, mellow fragrance of pure vanilla. Perhaps this is not a bar, but a cake of soap. And making this cake moist and rich is extra virgin organic coconut oil. The coconut also sweetens the vanilla scent.
The cakes are a soft caramel color with tiny flecks of ground vanilla beans. Still, they are buttery smooth in texture.
Claims for vanilla's health benefits abound. It has been used for centuries by the native peoples of South America. Today, aromatherapists use it for everything from an aphrodisiac to an aid for weight loss.
Contains
Soap Categories