You may also enjoy:

"We bought your bug repellent soap last summer and it is wonderful. No problems with mosquitos or ticks! My wife has a lot of allergy issues with soaps & fragrances but not with this. Thank you so much for a wonderful product and great service."
Wayne Whitney, Bella Vista, AR
"My in-laws have a cabin in rural Arkansas, and we go every year for the 4th of July. I am happy to say that I got no bites and used nothing but your soap. Not a drop of commercial repellant (which I despise). Everyone else was miserable! I made believers out of quite a few people."
Jen Chatfield, St. Louis, MO
"We love the insect repellent soap. Haven't had a mosquito bite all season!"
Deb Meade, Hampton, IA
"I tried it and it works!"
Irene Hopkins, Wildwood, MO
"I used to be the choice mosquito food for the neighborhood. I use the bug repellent soap when I go outside and, it's amazing, I haven't been bit at all."
Inez Conrad, St. Louis, MO
"I have been tormented by the little chiggers that fly around down here all year long. I received the first shipment on Saturday, used it that night and I have not been bothered since! It's a miracle! I have very dry skin and I haven't even had to use a moisturizer with this soap. I plan on never being without it. Thanks!"
Barbara Smith, Tupelo, MS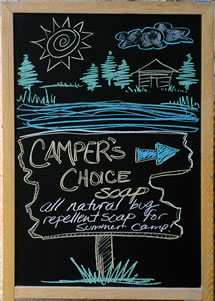 Does the scent of your soap attract mosquitoes? Camper's Choice™ contains eight essential oils known to repel insects. Like all of our soaps, it's moisturizing, luxuriously lathering and long lasting.
You'll love the scent. Lemon predominates. It's from the citronella, lemongrass, and lemon eucalyptus. Other pleasantly fragrant plant oils in this bar are lavender, basil, thyme and patchouli. They repel mosquitoes also. To top it off, we add costly catnip essential oil, reported to be ten times stronger than DEET.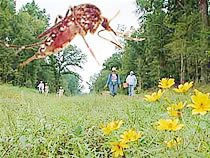 Shower with Camper's Choice before and after a hike. You may enjoy it even if you're not heading outdoors. The oatmeal makes a pleasant, soothing scrub. French green clay generates a thick and creamy lather.
We're happy to offer you a natural bug repellent that does no harm to the environment.
Contains
Soap Categories