Oatmeal Soaps And Products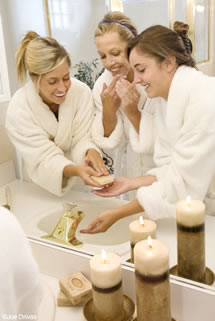 "We were introduced to oatmeal soap at a resort, liked it, and began a quest for more. Before long, we found Herbaria. We are hooked for life. Your soap is better and lasts longer!"
Gerry and Jean Geisick, Greeley, CO

Oatmeal works in four ways to pamper your skin.
Moisturizes:
attracts and holds water on the skin's surface
Soothes:
reduces redness, itching and many minor skin irritations
Exfoliates:
removes dead cells for radiant, healthy skin
Protects:
creates a protein barrier to shield your skin
Choose from our many selections below. No matter which you select, we guarantee you'll be happy.