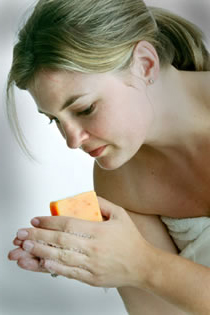 "Please never stop making the citrus oatmeal!!!!!!! My fave!!!"
Lisa Baker, Covington, TN
"I just took a shower with Citrus Oatmeal and I'm in love."
Margie Hartman, Creve Coeur, MO
"Your Citrus Oatmeal leaves my skin feeling so soft."
Sandra Jean Wilson, Augusta, GA
"I am so excited about these soaps. My friends Bess and Jon are the ones who turned me on to Herbaria, and I remember when Bess handed me the bar (it was Citrus Oatmeal) she said, "You will never go back"...I wasn't so sure, because I used liquid body washes and wasn't much of a bar soap person.
But now I know why she said that; these soaps are not like other bar soaps. They leave my skin feeling so comfortable and smooth, and the scents are so exhilarating. I just spoke to Bess and Jon on the phone and I swear, we spent roughly 20 minutes talking about how much we love the soap and discussing which scents are our favorites. I really can't wait to try them all!"
Jenny Parsons, Clayton, MO
Freshly squeezed oranges. Zest spritzing from a juicy tangerine. A touch of lemon. Our Citrus Oatmeal is a magnificent bar that revitalizes you with every shower. No wonder it's one of our best sellers for men and women.
We start with the same wholesome vegetable oils and emollients that go into all Herbaria soaps. Then we add ground oatmeal for gentle exfoliation and shea butter for moisturizing. The combination of rich, creamy lather and a good scrub makes for clean, healthy skin.
It is a gorgeous bar colored by the bright orange essential oil and annatto, an all natural food coloring.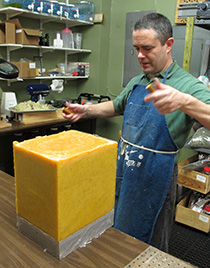 Contains
Soap Categories