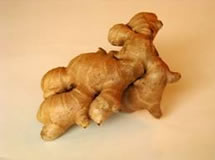 "Ginger Neem bar: This one is particularly exciting. The soap contains ginger and neem oil. Neem oil has been buzzed about far and wide for it's skin-healing properties. I was always tempted to try some, but Herbaria has saved me the trouble. I'll just wash with this soap and be a very happy camper!"
update 1/07/09:
"Bionic's Best of Beauty 2008: I adore the addition of the Neem Oil. It's great for inflammation, ouchies, rashes, and just keeping your skin in glowing & smooth shape."
Jami Shopf, Bionic Beauty blog
Bionic's Best of Beauty 2008
read what other bloggers have to say
"It's the star of your show!"
Ruth McCandless, Augusta, ME
"A big thank you for the Herbaria soaps that you mailed to my parents in India. Your soaps have proven to be a miracle for my 88-year-old dad. He had developed a skin rash from being bed-ridden and was suffering from a severe itch problem. My siblings tried all recommended medicated creams, etc. but nothing worked for my Dad. It was hard for my mother and other family members to see him suffer. Then, your soaps arrived. The prompt delivery was indeed a very pleasant surprise!!
You will be very happy to know that in just THREE days of using the soap, my mom told me that my dad's itch was completely GONE!!!!! HURRAH! Within a week his rash disappeared. Thank you so very much for producing such miracle soaps."
Mrs. T. Sarkar, Winnipeg, Canada
This is no child's ginger cookie. This is a serious soap with a spicy, earthy, woody blend of ginger and neem, two revered plants from the Indian subcontinent.
The fragrance of fresh ginger essential oil stimulates your senses and creates an exotic atmosphere for your bath. Powdered ginger is used to give the bar its lovely golden color.
Neem is the perfect moisturizer to pair with ginger. Cold pressed neem possesses a wide spectrum of benefits for skin health and has traditionally been used to treat skin diseases, inflammations and eczema. Neem oil has enhanced cosmetics for centuries.
Of course, like all our soaps, Ginger Neem is vegetarian and cruelty-free.
Contains
Soap Categories