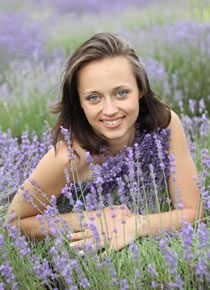 "I just received the Lavender Oatmeal soap and it was heavenly! Its scent is clean and delicious and the lather is SOOOO creamy! I just love it! Your soaps are absolutely awesome and everyone should know!"
Nadia Dombrowski, Dunnellon, FL
"We have eczema and rosacea in our family and your soap has done wonders. Itchy skin is a thing of the past!!"
Jennifer Hertel, Kenosha, WI
"Your soaps work miracles on my psoriasis! My doctor had prescribed two medications that never worked: Amcinonide and Ciclopirox.
I stopped using the medications and used your Lavender Oatmeal soap. Today, I am free of psoriasis. I should have taken "before" and "after" pictures (lower back, thighs, and arms) as a testimonial. My wife and son also use your soap and they love it."
Francisco Woo, El Paso, TX
"I love your lavender oatmeal soap. I am a nurse, so my hands are always dry from constantly washing them between patients. The first time I used it, I washed three times just for the pleasure. Within a week I found that I no longer needed lotion at night.
Then I decided to abuse the bar and left it under running bath water for a bubble bath. And the bar of soap still lasted me a month after two more baths like that! Never before have I taken baths without feeling dehydrated afterwards. And such fine silky bubbles too!
The reason I need to order more so soon is because I keep giving the soap away to friends and family. How many other lavender varieties have you considered? I volunteer to try them all!"
Michelle Hrubik, Norton, OH
"My son remarked that your soap didn't make his skin feel itchy. I think that it is the chemicals in commercial soaps that were bothering him. As I talk to friends about your terrific soap, they tell me their skin doctors are telling them the same thing. This soap you make is not just a luxury... it takes care of an annoying problem quite a few people are researching."
Pam Schandler, Florissant, MO
"Your soaps are wonderful! My skin has never looked better, no more dryness and flakiness. I'm so glad I found Herbaria! Your soaps are far superior to others that I tried in the past."
Vivian Segraves, Wellington, FL
"My daughter has very sensitive and dry skin and she has not itched or required repeated lathers of lotion since we started using the soap about two weeks ago."
Kathy Spencer, Fenton, MO
"I absolutely adore your Lavender Oatmeal soap. It's the best! I must tell you that I have tried many homemade soaps over the years and never have I come across one that didn't dry out my skin. After a week of using the Lavender Oatmeal, I noticed that my arms felt soft and there was no flaking. Even my elbows were soft. I am sold!"
Irene Hommert, Kirkwood, MO