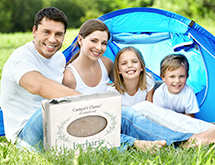 "It works!"
Dr. Walt Sundberg, Carbondale, IL
"We live in the woods and mosquito bites have always been a real problem. My wife really likes the mist better than 'Off.' We both agree that, since we started using your products, we have had fewer bites."
Dennis Scearce, Mooresville, NC
"My daughter used the citronella mist on her trip to the Everglades. Worked like a champ!"
Michelle Sansone, Fort Walton Beach, FL
"I had the great opportunity to attend 'Casting for Recovery' earlier this month. It was an experience that I will always cherish.
"I must say that I was a bit afraid to attend because of possible mosquito/tick bites (a few years ago I got a tick bite and ended up in the hospital). So your gift of the special soap and spray were absolutely the perfect thing to find on the first day when we got to our rooms - they were waiting for us on our beds. I have to tell you that I did not get any bug bites; I did however get several nice trout biting on my line!
"Thank you so much for making my experience even better by helping me survive bug-free!!"
Kathy Windmoeller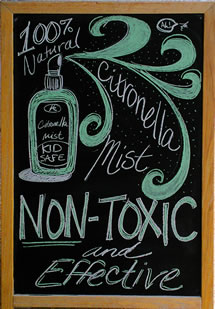 "I love it and it worked for all three of us on our latest camping trip."
Sarah Stanbary, Green Bay, WI
"I love your Citronella Mist! It really works! We live in Florida and have tons of mosquitoes, but no bites with this spray! Thank you for a great, natural and SAFE product that really works."
LivingDisney.com blog, Orlando, FL
"At our bar-b-cue, we and our guests appreciated the protection of your Citronella Mist. And it didn't spoil the ribs."
Brian Smith, Clayton, MO
"I used your Citronella Mist – WOW! It works great and smells HEAVENLY!"
Shannon Emler, Centerburg, OH
"I love that I can spray it all over, even my face, and not worry about toxic chemicals."
Dan Mutchler, Kirkwood, MO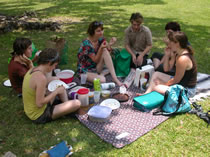 Used normally... "citronella products are not expected to cause harm to humans, pets or the environment."
US Environmental Protection Agency
Looking for a natural, effective, DEET-free insect repellent? Our Citronella Mist® contains eight essential oils known to repel mosquitoes and other annoying bugs. We combine long-trusted citronella with lemon eucalyptus, catnip, lavender and more.
Citronella Mist is harmless to children, pets, and the environment. It smells really good. It's perfect for picnics and barbecues because it's safe around food. You'll love it for gardening, hiking and all outdoor activities. In summer's heat, you'll appreciate the light, cooling, water-based mist. It's free of bug-attracting emulsifiers, heavy, greasy oils, and alcohol that may dry your skin.
Citronella Mist has these bug repellent essential oils:
We don't brag about how many hours of protection you get with one application. You can safely mist as often as you like to suit your biochemistry or surroundings.
Additional protection
As a supplement to Citronella Mist, we recommend the following nontoxic preventions.
For ticks, tuck your pant legs into your socks and seal the tops of the socks with duct tape. Ticks trying to crawl through to your skin will get stuck on the tape before they can bite you. Keep another strip of tape handy to lift off the ticks as you spot them on your skin and clothing.
Ticks take some time to attach themselves to you. After an outing, thoroughly inspect your body. A hand mirror and/or a close friend can help. Remove ticks with duct tape if possible or use a tick removal tool to pull them out gently. If you use tweezers, take care not to squeeze their bodies too hard because you want to prevent their innards from entering your bloodstream through their mouths.
The most effective way to deal with chiggers is simply to take a shower within four hours of exposure and scrub very well with a washcloth or loofa. Powdered sulphur is also said to be effective but the smell is offensive to some.
Extreme conditions
Under the harshest conditions, not even DEET seems to help. For those situations, we suggest protective gear. You might also try Repel Permanone Insect Repellent Clothing & Gear Spray. This seriously toxic insecticide is not to be sprayed on the skin. It must be applied hours in advance in order to dry on your clothes before you wear them. Be sure to follow the instructions on the can.
When does mosquito season begin?
Mosquito season begins once the temperature is consistently about 50°F (10°C). At about 50°F, female mosquitoes feel safe to start laying their eggs. Depending on where you are in the country, this time of the season varies.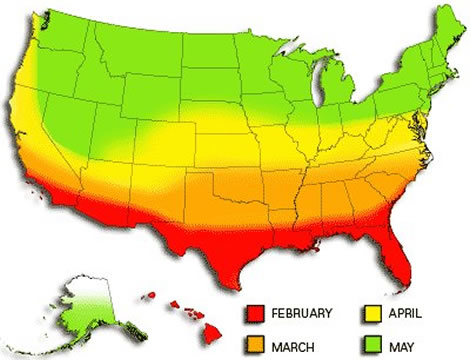 Contains
distilled water
nothing else
Categories
Each bottle of Citronella Mist counts as 1 bar toward our free bar offer.