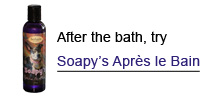 "Best Dog Soap. I have been using this handmade bar on my dogs for years. It contains no detergents or perfumes and will not dry out your dog's fur or skin. I wash my dogs at least once a week, and more often if they roll in something disgusting in the park. I've tried many dog shampoos, and this one is the most effective and gentle at the same time. This soap doesn't create too many suds, rinses clean, and doesn't cause any irritation. The bar also lasts a lot longer than any bottle of liquid soap I've tried, and I buy it in bulk!""
From the blog Central Park Doggies with Big Schnozzes
"Billie is a working pet therapy dog. She gets her bath before she visits the elderly at the home every week. They love to touch her coat"
Esther Knox, Mt. Vernon, NY
"The jojoba oil keeps my coat lustrous and silky while it conditions and moisturizes my skin. It takes effort to maintain beauty like this, but I'm worth it."
Lilly Capstick, Eureka, MO
"It's so easy to use. Blue's fur is soft and she smells great."
Karen Benson, St. Louis, MO
"I just wanted to tell you how pleased I am with the Healthy Dog Shampoo bar. I have a very short-coated American Staffordshire Terrier and this soap is absolutely the best soap I have ever used on her. She actually has no fur at all on her belly so her soap must be able to clean but be gentle as well. It leaves her clean and shiny and smelling good!

The fact that this is in bar soap form makes her baths soooo much easier than struggling with a very slippery plastic bottle. It also lathers much more readily than any other dog shampoo I've ever used (and I've owned dogs since 1972). Kudos for another great addition to your fantastic line of soaps!"
Sharon Simpson, Madison, CT
"When the flies start to collect around my pooches, I know it's time for a bath. When I dump them in my tub, I use this great dog bar soap that is much better than any liquid shampoo I've tried."
Goofy and Stinky,
Central Park Doggies with Big Schnozzes

"I have two Yorkies and one Bichon Frise and all have extremely sensitive skin. In the past, I have bought expensive shampoos and conditioners from pet shops and vet offices that just didn't work well. My dogs had rashes and that caused itching, resulting in sores and hair loss. Since using your pet soap for over a year, they all have beautiful, shiny coats with no allergic reactions whatsoever. A big plus is that no conditioner is required after shampooing. Thanks so much"
Barbara Smith, Tupelo, MS
"We really like the pet soap, or should I say, the dogs really like your it. It makes the task of giving a bath to two big, squirmy dogs a lot easier and it leaves them so fresh smelling and soft."
Charles Pardee, St. Louis, MO
We've sold Healthy Dog Skin & Coat Shampoo for years, and dog lovers swear by it. It's guaranteed not to irritate a dog's sensitive skin. Because we now have Soapy, our shop dog, we've renamed the bar after her. It's now Soapy's Choice™.
Bar shampoo? Yes! If your dog has skin problems, check the ingredients in the liquid pet shampoo you're using. It is probably made with detergents, harsh surfactants and synthetic fragrances. These can cause dry skin and trigger allergies.
This shampoo bar is made with the same gentle, wholesome ingredients as our people soaps. We add jojoba and neem oils, emollients that assure a clean, healthy, shiny coat.
Soapy's Choice will leave your pup clean, fresh-smelling and huggable. It's scented with canine-friendly essential oils: lavender, peppermint, cedarwood, tea tree, lemon eucalyptus and geranium.
How to use Soapy's Choice
Rub the wet bar over your dog's coat. Work up a lather and massage the suds into the fur. Avoid soap in the eyes or deep in the ears. Rinse thoroughly. Repeat the wash and rinse if you like. Stand back for the shake-off, then towel dry.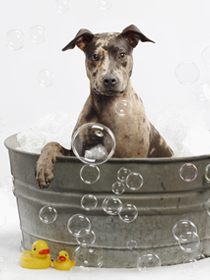 Photo credit Lynn Terry
Contains
Soap Categories