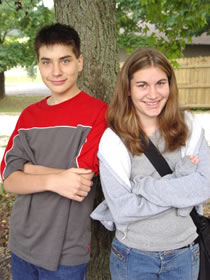 "My aunt saw several women with great complexions and asked what they used. They said Herbaria Biotherapy Skincare. She bought me a bar to try and now I'm spreading the word like she is."
Angela Vogel, Lexington, SC
"Though I keep trying different soaps, the one I use the most is the Biotherapy Skincare.
I've had acne since I hit puberty, and now that I'm nearing 30 I've finally found something that really helps. After a little over a month of use on my face, I'm almost completely clear! I'll never use anything else on my face again.
My roommate uses it head to toe... literally. She uses it as shampoo as well, and it has nearly rid her of a nasty patch of psoriasis she has had at the hairline on the back of her neck for years now.
The soap has a light, almost lemony scent that doesn't overpower you, but just leaves you feeling and smelling clean and is never the slightest bit harsh.
Thanks!"
Crystal H., Russellville, AR
"I just wanted to say that I am so glad my mom introduced me to your Biotherapy Skincare!
I am 5 months pregnant, and was my skin on the fritz! Nothing was working. My mom told me about the Biotherapy and I thought I may as well try it out, but wasn't very optimistic; after all, I had tried so many topical solutions already.
How wrong I was! The Biotherapy cleared up my skin within 2 weeks and has been working ever since. I love it!! Thank you so much for putting out such a great product. With all the weight gain, mood swings, and hormones a pregnant woman goes through, at least I know I don't have to worry about my skin any longer!
I want everyone to know how much it helped!"
Rhiannon Frovarp, West Fargo, ND
Biotherapy Skincare is an excellent everyday face and body soap especially recommended for people with problem skin.
It contains essential oils of tea tree, palmarosa, lavender, geranium, patchouli and vetiver. This herbal blend is created to help balance your skin's oil production and promote healthy skin. The soap is pleasantly scented, good for dry or oily skin.
We put two other beneficial ingredients in Biotherapy Skincare. Jojoba oil, a noncomedogenic moisturizer, will soften your skin without clogging your pores. Pulverized oatmeal will soothe and tone your skin.
Many of our customers stand by this bar for daily skin cleansing. We receive glowing reports of its support in counteracting blemishes and acne. If you plan to use Biotherapy Skincare for the treatment of acne, wash affected areas regularly with it, but don't forget good nutrition, exercise, and a doctor's care when necessary.
Contains
Soap Categories