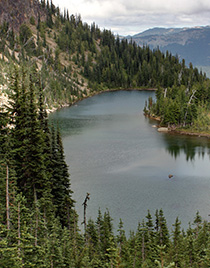 "For the first winter ever, I'm not a big flake. :-) I think your soap is great!"
Donna Powers, St. Louis, MO
"Evergreen is my favorite. I'm crazy for the eucalyptus."
Bill Lawton, Ft. Myers, FL
"This bar of soap that you make is not just a luxury—it takes care of an annoying problem. My son remarked that after using your soap his skin was no longer itchy. I think the chemicals in commercial soaps caused his irritation. As I talk about your terrific soap to my friends, I find their skin doctors tell them the same thing."
Pam Schandler, Florissant, MO
Our Evergreen soap delivers a fresh, clean, outdoor scent any season of the year. It's a marvelous blend of sweet, woody essential oils including fir needle, cedarwood, and eucalyptus.
Breathe deeply. Your sinuses and lungs will naturally expand with the welcome camphoraceous scent of this bar. It's a terrific all-body soap packed with oatmeal and seaweed for an invigorating scrub.
Shea butter is the added moisturizer. We make sure our soaps will never dry you out.
Contains
Soap Categories