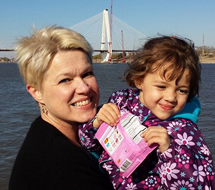 "Your soaps are the best!!"
Elizabeth Young, Metairie, LA
"Your soap has helped calm my rosacea much better than the over-the-counter cleanser my dermatologist suggested. Within two days of switching to yours, I could see a marked improvement in the redness and dryness."
Sue Marsh, Irmo, SC
"I'm allergic to pretty much everything out there but this is the first soap that I can just lather, rinse and go, without worrying about itching or getting a rash. Perfect for both face and body."
Megumi Rinaldi, New York City, NY
"I have tried other bar soaps over the years and the scents or something in them always made me itch. I've tried other fragrance free soaps and this one is much, much better!!"
Vicki Brown, Troy, OH
Over a decade ago, LaRee DeFreece developed our first soaps. Of all the varieties she created, this pure, unscented Castile soap is still her favorite. She loves the nourishing, moisturizing addition of extra shea butter and avocado oil.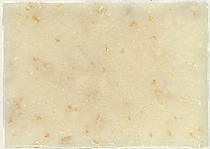 LaRee's Scent Free is also available with ground oatmeal. Oatmeal exfoliates dead skin cells and offers colloidal benefits to further soothe and soften skin.
LaRee's Scent Free is exactly the same as Sensitive Skin Fragrance Free. We've merely renamed it. Truth is, all of our soaps are good for sensitive skin and all of our soaps are free of synthetic fragrance oils.
Several years ago, before we called this variety Sensitive Skin Fragrance Free, it was Baby & Me Fragrance Free. However, this soap is not tear free. It can sting a baby's sensitive eyes. So the decision is yours: choose tear free products from some other company, or rest assured that baby's skin is treated as gently as possible. If you want the kindest skin care, you'll want LaRee's Scent Free.

Contains
Soap Categories