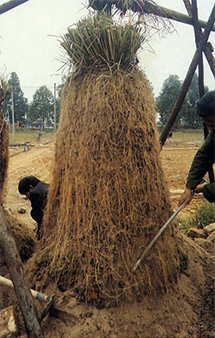 "I have been addicted to this bar for a year now. Can't give it up."
Nina Ganci, St. Louis, MO
"I get compliments all the time about smelling good. It's the Vetiver Walnut soap."
Matt Sanders, Miami, FL
Vetiver has long been a popular scent with both women and men, and is often used as the base note in both perfumes and colognes. Vetiver imparts a robust, woody aroma, warm and comforting. In this soap, vetiver is one of three essential oils that complement each other deliciously. Coriander adds a touch of spiciness, may chang a lemony freshness.
If you've been a fan of our Indonesian Safflower bar, you'll also enjoy this close cousin. Vetiver Walnut is more earthy; Indonesian Safflower a bit more floral.
Finely ground English walnut shells add a scrub that invigorates and exfoliates your skin as you soap up. You will feel fully clean. To top off your skin care, we've added sweet almond oil for a soothing moisturizer.
Contains
Soap Categories
This is one of Herbaria's premium soaps. The special ingredients make it a little more expensive, but we know you'll think it's worth it!